Today is my 34th birthday!
I celebrated by making myself a massive pumpkin and chocolate layer cake covered with chocolate ganache and decorated for Halloween. Because, OF COURSE.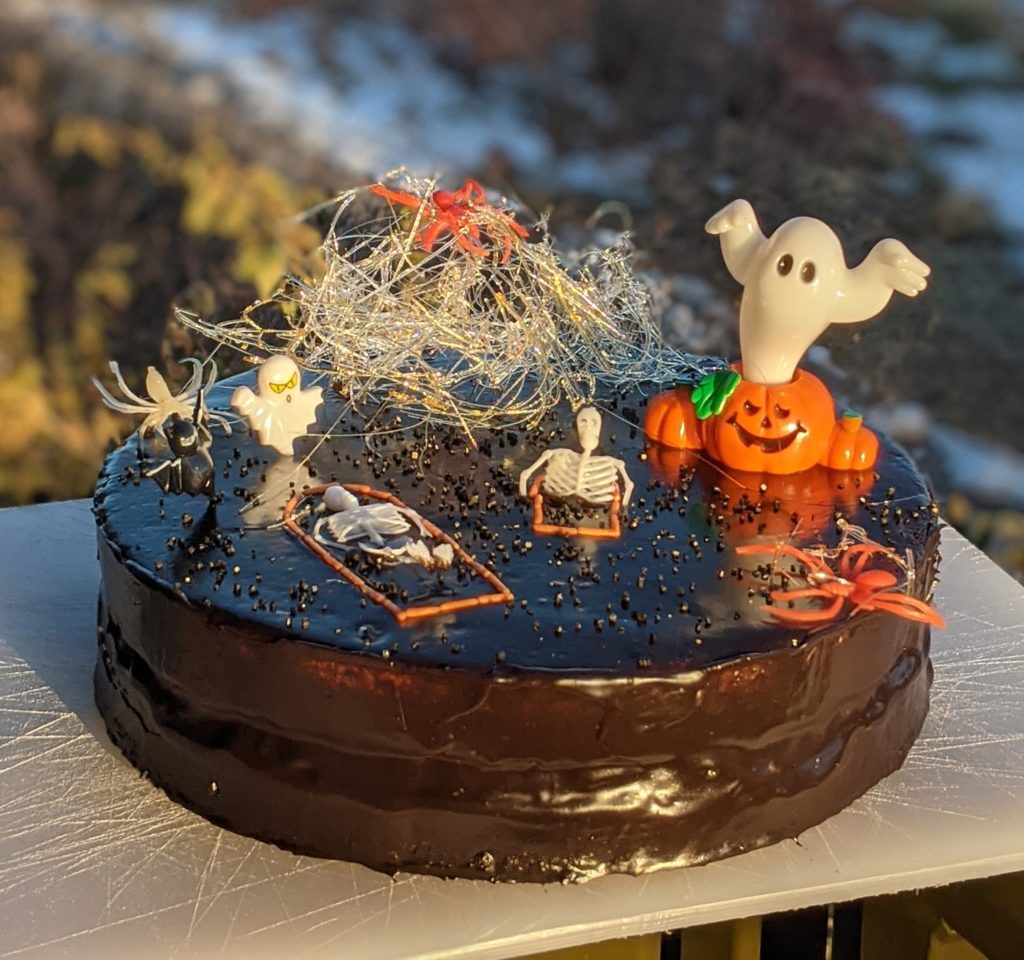 But I also celebrated with pumpkin bagels and a cappuccino, enjoyed outside in the sun. By reading. By doing a ramp test on my bike on Zwift (which was actually more fun than it sounds like it might have been). By cooking up frozen scallops and enjoying them in a white wine and cream sauce alongside homemade bread that Paul made today. By watching a little TV, and hopping on a phone call with my Mom. And with many, many message of love from friends. It might have been a COVID birthday, but it was pretty fantastic as far as birthdays go. I feel real damn lucky.
It's been a hard year. I don't think I need any more reminding of the fires, the pandemic, the murders of Black people and police brutality, the failure of our government, the anxiety and stress, the challenges my friends and family have faced, and the myriad of things that have gone wrong. That's been the dominating conversation (and for good reason). But, in honor of my birthday, I thought I'd instead share one positive highlight from each month of my 34th year – a reminder of all the incredible, special moments I've been lucky enough to experience:
October: Heading to NYC for Hearken's Engagement Innovation Summit ⏩ shared stories over tacos, late night Airbnb conversations, and cut out paper wings. Also eating all the NYC pizza, black and white cookies, cannolis, and rainbow cookies I could handle.
November: A shiny brand new climbing pad, and new outdoor bouldering routes discovered with Paul!
December: Travels back to Portland to see my WDS team, my friends, Airbnb fun with Julia and Brian, and visiting with my Mom for the holidays. Christmas cookies, climbing, and coffee galore!
January: Brand new mountain bikes taken out to the local bike park on cold, sunny days.
February: Hosting Eric for much of the month in Boulder, and having Julia and Brian in town. Beers, climbing, hiking, skiing, good food, and good friends.
March: Glorious, snowy winter hiking fueled by blueberry sourdough pancakes.
April: When I began biking out regularly on 'new to me' roads all over the county. Riding in the early mornings and listening to good tunes.
May: Zoom calls with Brian, Julia, and Brian complete with happy hour cocktails.
June: Walking downtown just to get a cone of vanilla chocolate twist soft serve ice cream.
July: Biking up my first Colorado 14er with Paul on a beautiful sunny day. Bonus points for the baby mountain goats we saw at the top.
August: Completing my Everest attempt on the last day of the month with such wonderful support from family, friends, and particularly Paul.
September: Four hour Zoom calls with my St. Mike's crew where I barely noticed the time was passing.
October: Biking up 'new to me' dirt roads in Boulder with the leaves changing color and the smell of autumn in the air.
I have a lot to be grateful for, and I'm so thankful to be taking another trip around the sun. This year had huge challenges, but it also had huge moments of happiness. So, here's to another year of adventures, friends, family, good books, good food, and good fun. May I be so lucky again.