Just for fun, a review of what I took with me on my first ultra distance race including my repair kit, food, spare gear, and even what I wore. Here we go:
The seat bag:
I used a Topeak medium aero wedge pack (a size up from my usual small bag) with the following inside:
Spare eTap battery (I needed this some 200-odd miles in!)
Two mini bottles of Rock N Roll Gold lube (I had a hot waxed chain, which I was not at all sold on but would

absolutely

do again for a long race like this, however I also knew the conditions could end up super muddy and I wanted backup)
Part of a Chamois Butt'r towel to wipe down the chain
2 CO2 cartridges (the additional cartridge and inflator went in my pocket)
2 spare tubes (I was running tubeless)
Mucoff puncture kit with bacon and tool
Spare Dynaplugs (bullet tip and pointed tip)
Mini patch kit
2 tire levers (a lot of folks wouldn't take two, but I've had enough tire trouble that the extra weight was worth it to me on a ride like this)
Multi-tool (larger than my normal one to ensure I had all the tools I needed)
Spare derailleur hanger
Wolf Tooth master link combo pliers and 2 spare master links
Chain breaker tool
Valve extender (I run Zipp 303 S 45mm wheels I've heard too many stories of folks needing to borrow a tube and then not being able to use it because the valve doesn't extend on the deeper wheels)
Valve core remover
Orange Seal endurance sealant – 2oz
Chamois Butt'r mini (I used half of this at mile 180)
Zealios sunscreen mini
Super glue (oh sh*t backup option)
Bag of additional 'oh sh*t' gear including duct tape, zip ties, safety pins, spare washer, valve core, and 2 tire boots
I did have a couple other repair things in other places. However, maybe most notably, I did not bring a spare tire which many other folks did. I simply didn't have easily available space for it as I wasn't running a frame bag. My hope was between the boots, tubes, plugs, and duct tape I could muddle through.
The food: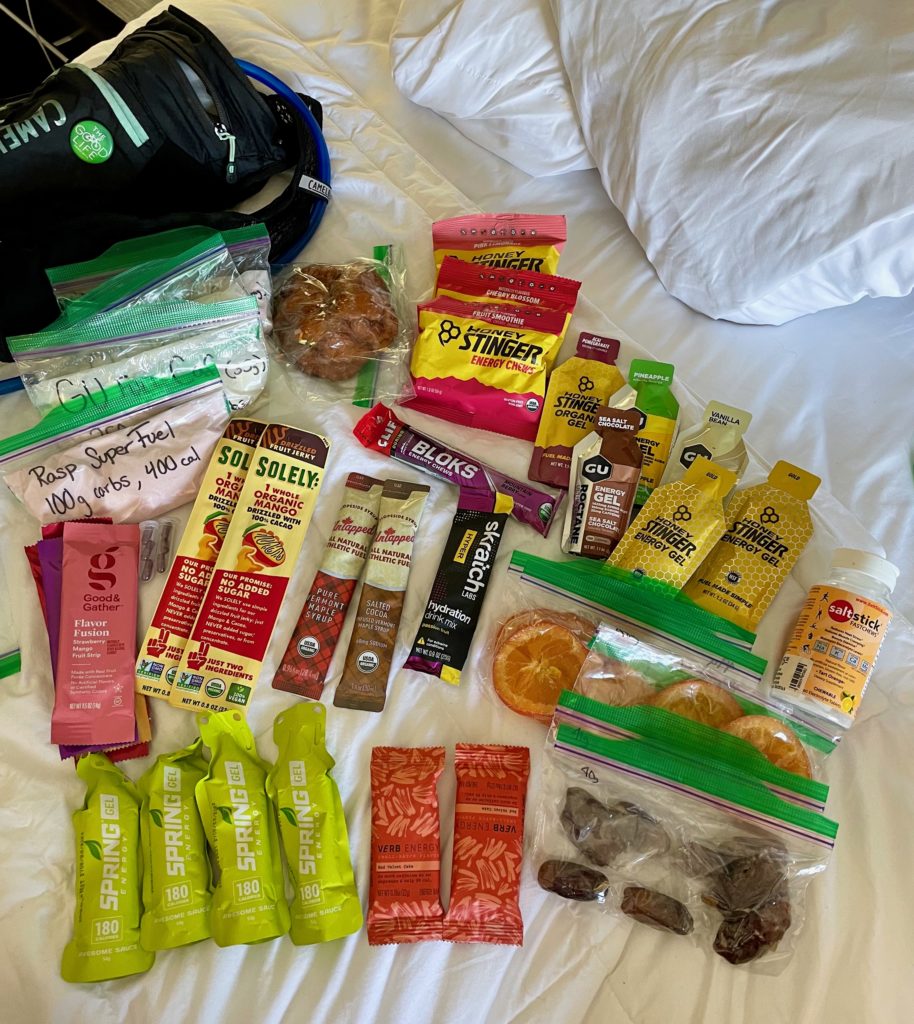 My goal with food was to bring things I knew I loved, could eat when the going was hard, and might not easily find at gas stations. I prioritized foods with high carb to calorie ratio except for the Verb bars which I brought because the 65mg of caffeine they pack sits really well with me. Here's what I brought and ate:
Drink mix:

Raspberry SuperFuel (1 serving) and GU Roctane energy drink mix (3 servings) in addition to starting with a bottle of SuperFuel and a bottle of GU

One serving of GU and the spare SuperFuel I carried in my jersey pocket for the first stop, the other two servings went in my backpack.

In my top tube bag to start:

Dates (80g)
Dried oranges (100g)
Fruit strips (6 strips)
Untapped maple syrup packet
Spring Gel Awesome Sauce
Honey Stinger Gold gel
GU sea salt chocolate
Honey Stinger fruit smoothie chews
Clif Blok mountain berry

In my Chase bike vest:

Untapped maple syrup (salted caramel) packet

Spring Gel Awesome Sauce (3 packets)
Honey Stinger acai pomegranate gel
Honey Stinger Gold gel

GU vanilla bean gel
Verb red velvet bar (2)
The only thing I brought but didn't eat at all was a GU pineapple roctane gel. I put it in a different pocket and simply forgot about it 🤷‍♀️ I also didn't fully finish part of second bottle of SuperFuel or my last bottle of GU.
Any solid(ish) food in wrappers was dumped into ziplocs so I wouldn't have to mess with opening packages. That includes fruit strips, all chews, dried fruit, and Verb bars. Obviously I didn't open the gels! It also saved space which was absolutely at a premium in this set up.
In total, I carried and consumed 4,635 calories 1,112 carbs, and 238mg of caffeine. I talked a bit about what I bought at gas stations in earlier posts but that included Pure Leaf sweetened iced tea (tons of carbs and sugar), fruit snacks, fig bars, Nutrigrain bars, oreos, cheese pizza, and a large Rice Krispy treat.
In total I estimate I ate 7,075 calories, 1,582 carbs, and 295mg caffeine. That averaged to 266kcal/hr and 60g/CHO/hr which I'm super proud of. I worked hard in my training to get my stomach to take in high amount of carbs (90g/hr) and that paid off here as I was able to take in a lot of food in the early parts of the race and still keep eating at a steady rate later on.
On my person:
On my body:
Ride Or Die Collective cargo bib shorts (Cutaway)
Ride Or Die Collective lightweight jersey (Cutaway)
Sports bra (I wore the green one)
Buff half headband for sweat
RIDE bracelet
Darn Tough wool socks
Castelli Competizione gloves (men's small, bought a few days before the race 🙃)
Wahoo heart rate monitor (worn on my forearm)
My favorite pink $25 supermarket sunglasses (it's either real fancy or real cheap here 🤑)
Gear and misc in my pockets:
CO2 cartridge and inflator
Dynaplug
Chapstick
Altred (4)
Wallet with health insurance card, credit card, ibuprofen, Tylenol, Benadryl, a spare hair tie, and cash (needed this easy access for the gas stations)
A mask
My 2 bags of drink mix for the first stop (this took up a lot of space but after the first stop I was then able to use this pocket to mostly carry wrappers)
Additional things that I put on but didn't take with me:
In my vest and my feed bag:
I love my Chase bike vest. It's not the most aero thing when it's full, but it carries a TON for its size, sits well on my back, and gives me easy access to my phone and a couple front pockets. In addition to the food mentioned above I brought along:
1.5L bladder – filled completely for the start and twice (thrice?) more during the race
Specialized Deflect H20 jacket (SUPER lightweight and compact and with decent water resistance for its size)
Specialized gloves (spare pair, which I would switch into at mile 180)
Mini pump (lent to me by a friend as mine is a bit large!)
Chamois Butt'r minis (3)
Zealios sunscreen minis (2)
Mini hand sanitizer packets
Handiwipes (5 in a ziploc in case of crash or if it was super hot and I wanted to clean off my face from salt/sweat/dirt)
Spare Garmin 530 (Paul's – as mine is a bit loved and I was worried about it)
Mini first aid kit with bandaids, Neosporin, athletic tape, one large bandage, and some Imodium (ask me about the one and only time I ran Hood to Coast…)
Spare cash (split up in case I lost my ziploc bag "wallet")
Spare mini USB stick charger (I was fully prepared for 2 nights out)
Headphones (not allowed but I know people frequently use them and I wasn't sure how bad things would get… I didn't need them this time though!)
Paint stick in the outside pocket
I also love my Revelate feed bags and for this I had one bag with me with:
Garmin inReach mini (required, in an outside pocket, eventually moved to a front pocket on my vest once I saw it was having issues)
A spare chain in another outside pocket (no, not the most logical place to have a likely not needed piece of gear BUT it was super heavy and I wanted that weight on the bike and not on my back as the vest was already heavy)
Exposure Joystick helmet light (easy access for night time; set either in program 2 or 3, can't remember)
Clear glasses (again, easy access)
Larger mini charger with cable (my Garmin is loved and doesn't hold a charge past ~8hrs so I knew I'd be using this on and off)
The bike:
Here's the set up for the bike and related:
Bike specific set up:

Maxxis Rambler 40mm tires inflated to around 30PSI (usually run ~25PSI but added air for the fully loaded bike and rider)
Zipp 303 S wheels
1x SRAM Eagle set up (46 chain ring, 10-52 cassette)
Force eTap shifting
Garmin power pedals
SQ lab 611 ergowave saddle 13cm (it took a lot of trial and error to find this saddle, but I love it!)

Smith Convoy helmet (yes, it's a mountain bike helmet but I love it…)
2 water bottles (one 24oz, one 16oz)
Garmin Edge 1000
Shimano XC5 shoes
Solas 250 rear light (attached to my seat bag)
Exposure Toro front light (either in program 5 or 6, can't remember)
2 spare red/white mini lights from Paul attached to my frame as emergency backups (not used in this race, but used in a practice ride when a light unexpectedly failed – they were a literal ride saver)
And that's everything! Overall I think it was a really good set up. I feel most confident that I nailed my food and my easy access to nighttime riding set up. I did use my rain jacket (twice) and I'm not sad I had the repair kit with me as a lot of folks suffered a variety of mechanicals. Many other things were cut (including arm warmers, food, and some additional repair kit stuff). I had tested just about everything on the bike at one time or another, but a couple hours before the start I took the fully loaded bike (and wore my jersey with pockets full) on a ~10min test spin just to confirm it all worked together the way I hoped. The one downside I found was that the extreme mud at mile ~300 got into and around the straps for my feed bag which I had attached to the frame. That did cause some rubbing off of my paint but… oh well. What's a gravel bike for if not to get a bit dirty and dinged.
There are things I'd change for next time but for my first go at ultra distance I'm pretty happy with how it worked out!