So, apparently Saturday's are the day we DO THINGS now. Mostly because even though we're both super lucky to have flexible jobs, I'm still pulling 50+ hour work weeks and it's often easiest to do that during 'regular business hours'.
This past week I got to catch up a bit on training after my Dad was in town last week. We'd been talking about doing a double Mount Defiance hike for a while, and this seemed like a promising week to do it.
Since we weren't getting any biking in, we went for a training ride on Friday which we tried to keep slow… Still, it was a bold move before a planned 10,000ft of hiking. Here's what happened:
We showed up at 8:00AM after a foggy, slightly damp drive.
Our plan was to head up Starvation Ridge and down the Defiance trail. Problem #1 came about a 1/4 mi in when we saw there was a mini landslide and the Starvation Ridge Trail was closed.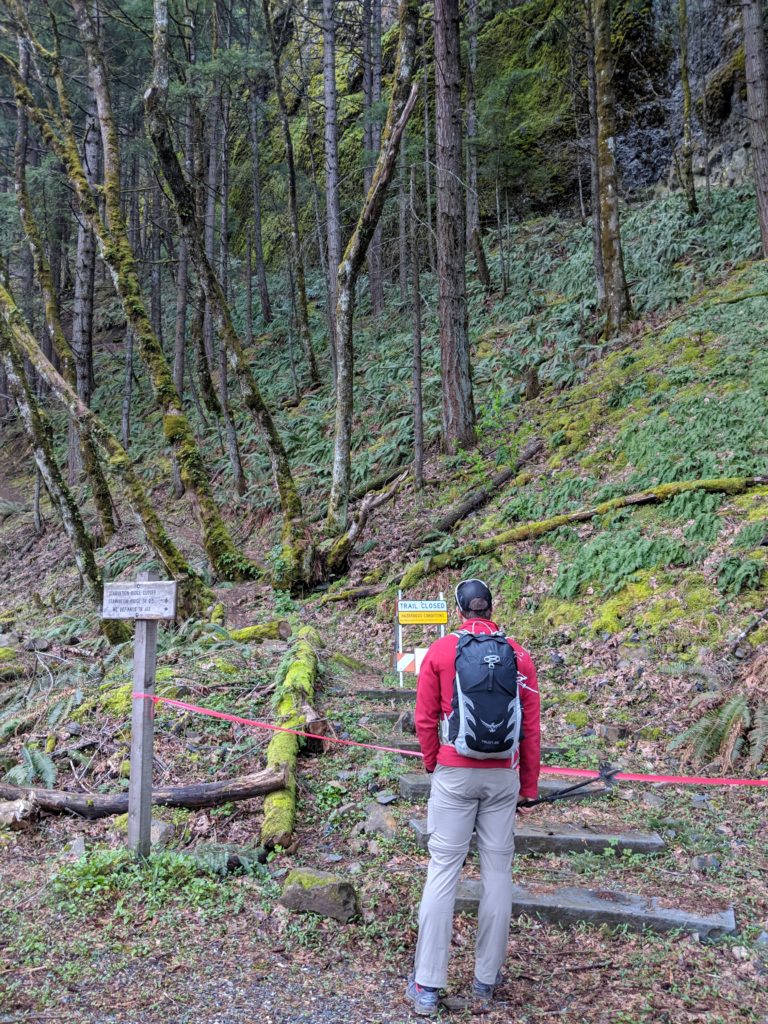 There's a cut back to the Starvation trail once you start up the Defiance trail, so we took that. However, didn't realize quite how much backtracking it was, and we added a good 3/4mi onto the hike.
Nevertheless, we headed up and got one nice glimpse out to the Gorge. That would be the one and only view of the hike.
From there, the trail CLIMBS. It's pretty steady up along the ridge, and we were soon into the clouds and damp. Basically 2K ft of this:
As we neared the top of the ridge line we hit snow. We had expected snow, but not quite this low.
The visibility also started dropping as we got higher into the clouds, and some route finding became necessary. Warren Lake was beautiful (if not somewhat foggy) and we encountered a small group of folks on a training hike with full packs.
Heading up from the lake we followed the cairns, and things got a little… well… deeper.
We weren't sad to be in trail runners, but we did manage to do a bit of post holing, including one step that sunk me to my upper thigh.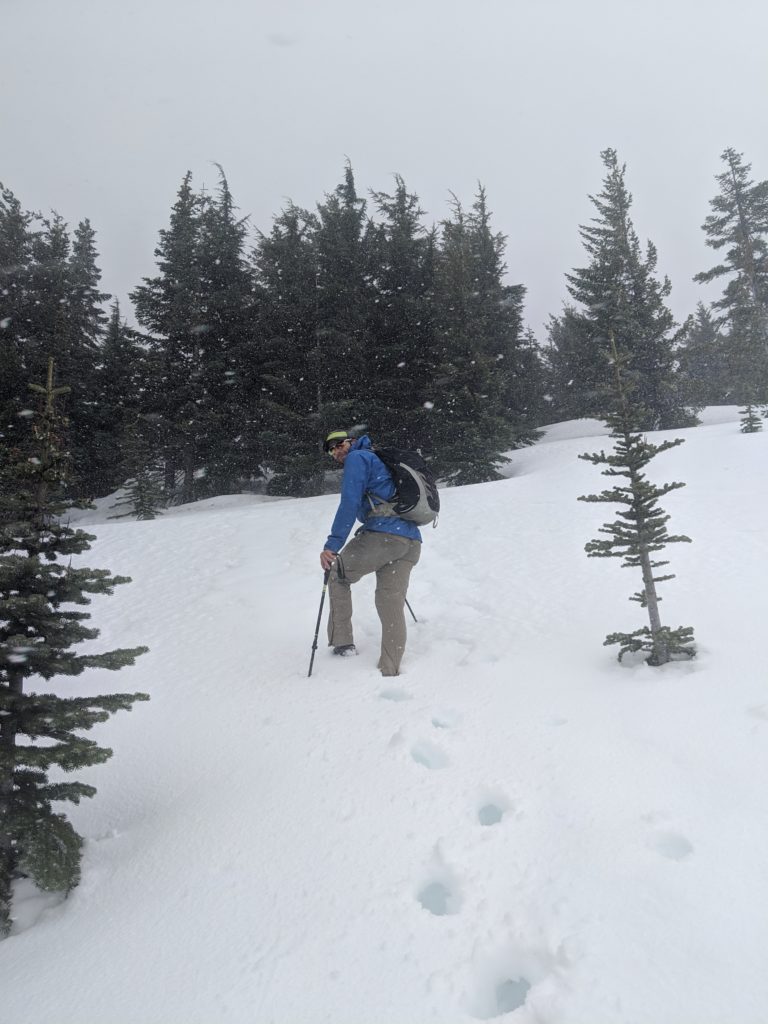 We wandered up through the snow, and opted to take the (snow covered) logging road the last 3/8mi to the top rather than continuing to cut through the forest.
We no views and quite a bit of wind, the stop at the top was a quick one. Thankfully we had plenty of layers to stay warm!
More than anything, the down was a slog. We did a bit of wayfinding, a lot of slip sliding, and steadily cruised out of the snow and back into the damp forest.
When we hit the bottom, we knew we weren't going to make another lap. It was too late, and while our trail runners had been fine for one lap, we didn't really want to go again.
We had once talked about doing a Mount Defiance and then Dog Mountain double (which seemed TOTALLY preposterous at the time) so we decided to revisit that idea. We tossed stuff in the car, drove across to the Washington side, and got ready to head up.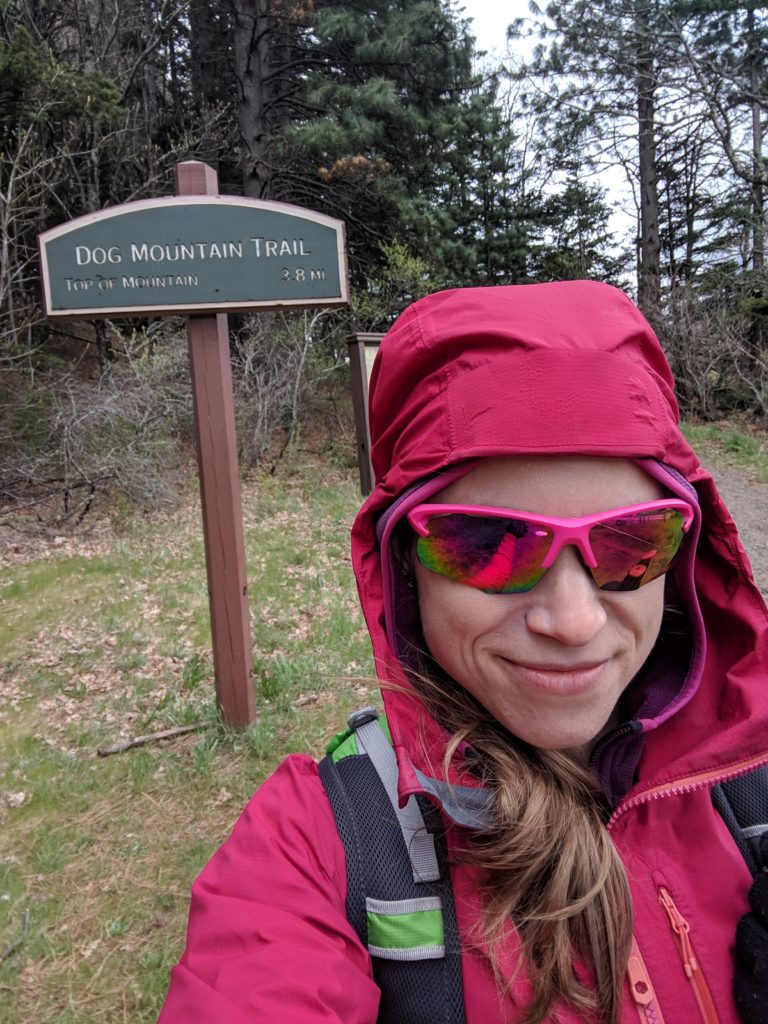 If you ever want to make Dog Mountain feel like a breeze, hike it after Mount Defiance. Although our legs were tired, the trail is so good, so much shorter, and generally more gradual that it wasn't nearly as hard as I feared it would be. I'm not saying we flew up, but it wasn't as terrible as we thought it might be.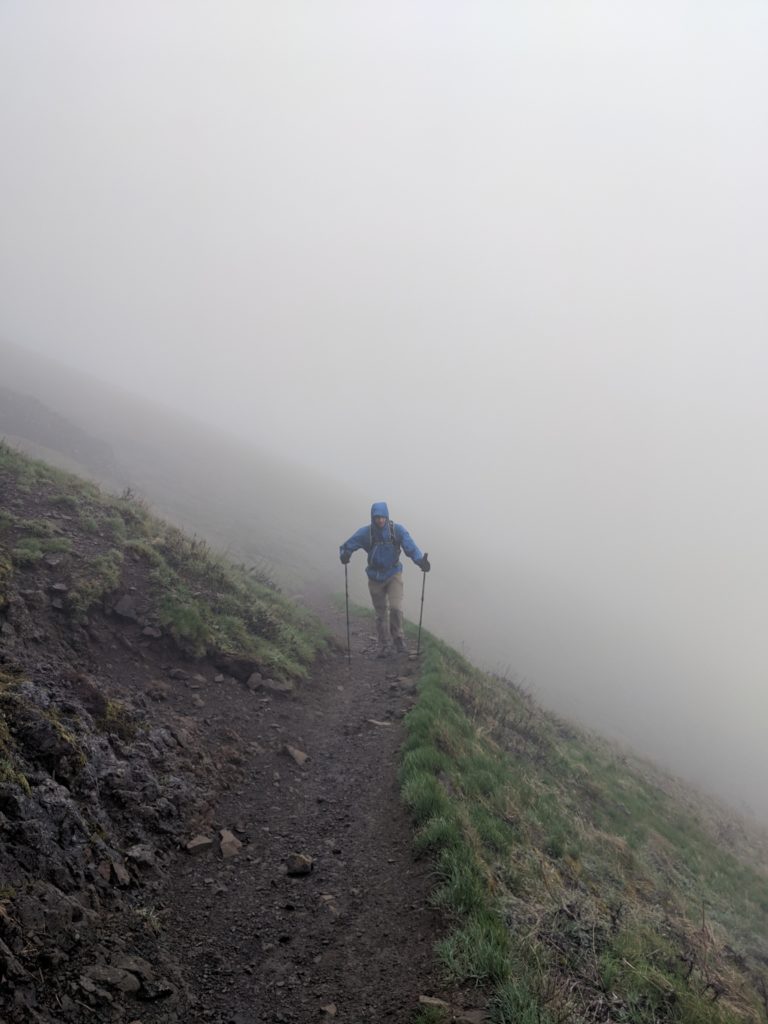 We did, however, hit the cloud layer again. This time it came with some super strong winds that were almost laughable. Views? Who needs views!?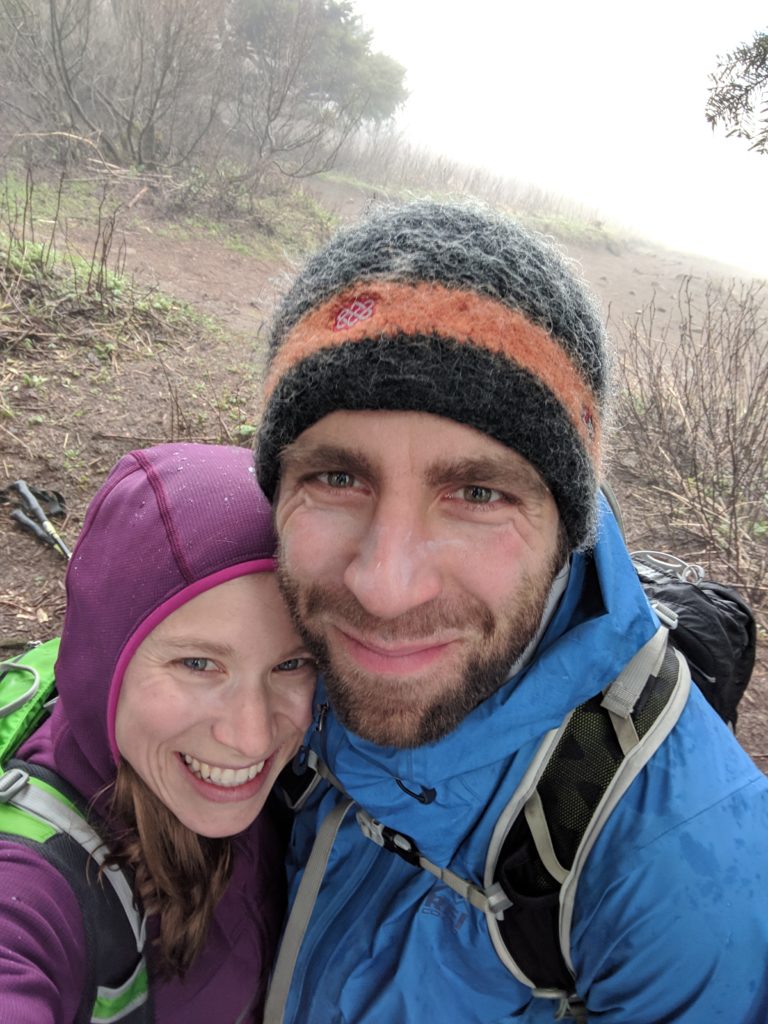 A bit chilly and tired, we made the top and decided to call it a day. Dinner was waiting at home, and we were ready to go.